Hotel Info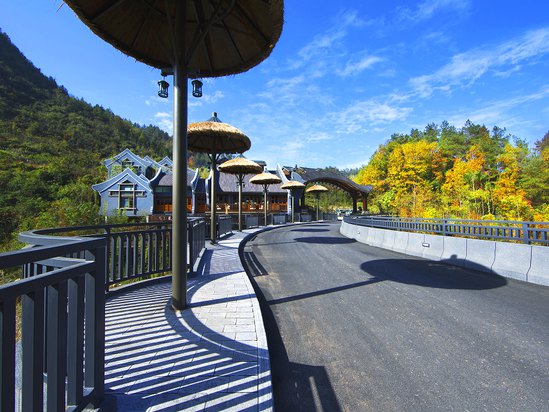 The
Harmona Resort & Spa Zhangjiajie
(Zhangjiajie Hetianju Dujia Jiudian) is located inside Zhangjiajie National Tourism Area, just a short walk from the core Wuling scenic area, and boasting easy access to Longwang Cave and the Grand Canyon. The hotel's unique architecture that combines traditional Chinese design with post-modern surrealism ensures that guests will enjoy an unforgettable experience.
The hotel offers an airport pickup service, multilingual staff, bicycle and car rental, free Wi-Fi in public areas and much more.
The on-site restaurant features a garden-style Tujia minority architecture and offers dishes from all over China giving guests a taste of the country's extensive culinary tradition.
Meeting rooms of different sizes are available for commercial travelers. Moreover, there is a VIP greeting room complete with a LED screens, hi-tech communication devices, multi-media presentation systems, conference tracking systems and audio-visual and acoustics equipment.
For fun and rejuvenation, a foot bath, spa, reading salon, fitness center, billiards room, ping pong room, yoga facilities, outdoor tennis courts, an indoor heated pool and an outdoor swimming pool are provided.