Hotel Info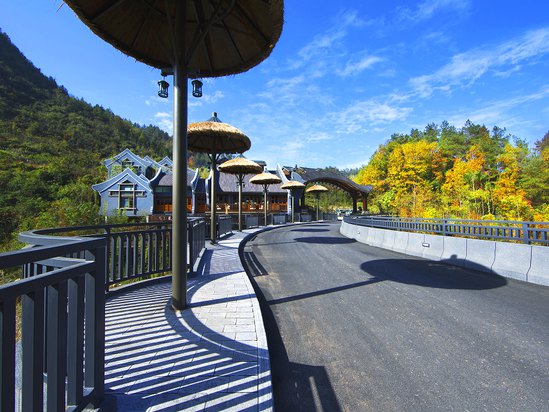 Harmona Resort & Spa Zhangjiajie
is located in the beautiful Zhangdiping of Sanguan Temple in Zhangjiajie, adjacent to Huanglong Cave, Baofeng Lake, Grand Canyon, Tianzi Mountain and other attractions.
Grand Hotel is a luxury villa-style ecological resort hotel invested and constructed by Zhangjiajie Hetianju Investment Co., Ltd. It covers an area of 560 acres and a building area of more than 245 acres.
The first phase of the hotel has 246 guest rooms, with an annual capacity of 100,000 person-times. The overall design is based on the essence of traditional Chinese culture-'Five Elements' gold, wood, water, fire, and earth as the starting point and main source of design.
The hotel has a graceful garden-like aerial restaurant, nine over 100 square meters of large-scale dining and dining rooms with a unique ethnic style in western Hunan, and an elegant and exquisite courtyard western restaurant.
Fully equipped conference facilities, meeting rooms and banquet venues totaling more than 1,000 square meters, with VIP reception room for 5A class VIP guests, equipped with 30 square meters of high-definition LED display and high-tech communication equipment, can accommodate 500 people at the same time, and Equipped with advanced audiovisual and audio equipment such as multimedia presentations and conference tracking service systems.
There are also 300 parking spaces with business center, lobby bar, foot bath, hot spring spa, beauty salon, chess and card room, fitness center, billiard room, table tennis room, yoga studio, outdoor tennis court, constant temperature and outdoor swimming pool, etc. Recreational facilities.